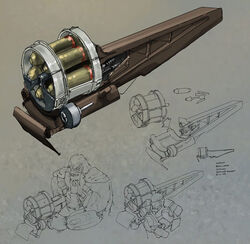 A Wookiee Guided Rocket Launcher was a type of gigantic homing rocket launcher created by the Wookiees. It is one of the most devastating weapon in the games.
It has a lock on feature that locks onto the target if you hold down the fire button; if you hold it, it will lock on a second time and it will shoot five powerful bursts that destroys almost everything within range. It is almost as large as the player.
Appearances
Edit
Ad blocker interference detected!
Wikia is a free-to-use site that makes money from advertising. We have a modified experience for viewers using ad blockers

Wikia is not accessible if you've made further modifications. Remove the custom ad blocker rule(s) and the page will load as expected.