Victory I-class Star Destroyer
Production information
Manufacturer

Kuat Drive Yards

Model

Victory I-class Star Destroyer

Class

Starship

Technical specifications
Length

900.0 meters

Shielding

3200 SBD

Hull

1520 RU

Complement

starfighter:

soldiers:

Crew

crew: (4,798)
gunners: (402)

Usage
Role(s)

Frigate

Era(s)
Affiliation

  [Source]
Victory I-class Star Destoryers, sometimes called Victory Cruisers, were a smaller version of the Imperial I-class Star Destroyer. They were used as frigates by the Galactic Empire. Bridging the gap between the Acclamator-class and the Imperial-class Star Destroyers, the Victory class has medium power, capable of easily defeating corvettes and light frigates. However, they are somewhat limited when battling larger capital ships, and require fighter squadrons to ward off enemy bombers that can easily dispatch them.
The Victory II-class Star Destroyer was later developed as a replacement for the older Victory.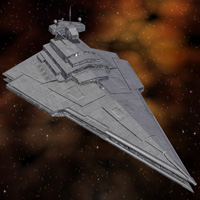 Known ships
Edit
Bombard
Corrupter
Crusader
Dominator
Gallant
Gauntlet
Harridan
Hunter
Iron Fist
Prestage
Protector
Rampant
Red Harvest
Stalwart
Strikefast
Subjugator
Tempest
Wachtor
Warlord
Strengths
Edit
One thing the Victory Cruiser excelled at was its ability to effectively attack corvette class ships, and unlike the Acclamator Cruiser, it could carry more fighter and bomber squadrons and could counter the Assault Frigate which the Acclamator cannot do. They were also particularly effective at disabling enemy shields very quickly thanks to it's ion cannon. They were also fairly durable and weren't as fragile as the Acclamator. They could also fend off fighter attacks particularly well.
Weaknesses
Edit
One main weakness the Victory Cruiser has is its inability hold it's own against enemy capital ships and bomber attacks. A good capital ship can easily overwhelm a single Victory Cruiser and before you know it, it will likely be gone. Victory Cruisers also had a shield generator meaning that unlike the Acclamator, the Victory Cruiser was not immune to complete shield destruction. The Victory Cruiser also lacked firepower and was particulary slow and unmaneuverable compared to the Acclamator.
Appearances
Edit
Ad blocker interference detected!
Wikia is a free-to-use site that makes money from advertising. We have a modified experience for viewers using ad blockers

Wikia is not accessible if you've made further modifications. Remove the custom ad blocker rule(s) and the page will load as expected.