Twi'lek
Homeworld
Language

Ryl, Galactic Basic Standard

Average height

1.6 to 2.4 meters

Skin color

Red, Blue, Green, Yellow, Dark Grey, Purple, Brown, Tan, Pink, White

Distinctions

Lekku, Smooth skin

Races

Lethan and Rutian

Famous members
Twi'leks were a near-human race from the planet Ryloth. They had tentacles that come out of the back of their heads called Lekku. Most females were taught the art of seductive dance and were sold as slaves. There have been several Twi'lek Jedi. One of the most well-known male Twi'leks was Bib Fortuna, the majordomo of Jabba the Hutt.
Notable Twi'leks
Edit
Empire at WarEdit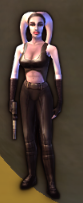 Appearances
Edit
Ad blocker interference detected!
Wikia is a free-to-use site that makes money from advertising. We have a modified experience for viewers using ad blockers

Wikia is not accessible if you've made further modifications. Remove the custom ad blocker rule(s) and the page will load as expected.