T-65 X-wing starfighter
Production information
Manufacturer

Incom Corps.

Model

T-65 X-wing

Class
Technical specifications
Maximum acceleration

16 MGLT/sec

MGLT

100 MGLT

Shielding

50 SBD

Hull

20 RU

Armament

Lasers

Warhead

Crew

Pilot (1), Astromech Droid

Passengers

0

Usage
Role(s)

dogfight, escort

Era(s)
Affiliation

  [Source]
The T-65 X-wing starfighter, or simply, the "X-wing", is the primary starfighter for the Rebel Alliance.
In the games
Edit
The X-Wing appears in every video game featuring the Rebel Alliance or Rogue Squadron. It is the most well-balanced starfighter to appear in the franchise due to its speed, maneuverability, defense and firepower.
Empire at War
Edit
X-wings appear in Empire at War and Forces of Corruption as the main and basic fighter for the Rebel Alliance.
Strengths
Edit
In Empire at War, or virtually any game, the X-wing is a very good at engaging TIE Fighters and TIE Bombers, along with almost any other TIE and even could be effective against corvettes due to their versatility. They also, unlike TIE fighters could hyperspace without a carrier ship needed. They were also fast and locking their S-Foils only made them even faster at the expense of firepower. X-wings worked great as escorts for Y-wings by keeping fighters off of them so they could allow the Y-wings to unleash their powerful attacks.
Weaknesses
Edit
Despite their speed, the X-wing really didn't have the ability to turn the tide of a battle and were completely vulnerable to Tartan Patrol Cruisers. They also didn't have to high of a probability to survive any larger battles.
Appearances
Edit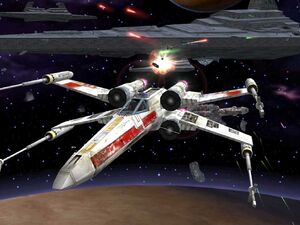 Ad blocker interference detected!
Wikia is a free-to-use site that makes money from advertising. We have a modified experience for viewers using ad blockers

Wikia is not accessible if you've made further modifications. Remove the custom ad blocker rule(s) and the page will load as expected.