Swamp Speeder
Talk

0
2,147pages on
this wiki
Swamp Speeder
is a light mercenary vehicle that appears in the
Star Wars: Empire at War
and its expansion
Forces of Corruption
. A squadron of 3 can be purchased at the
Cantina
for 375 credits: the only requirement is to have captured the Cantina first.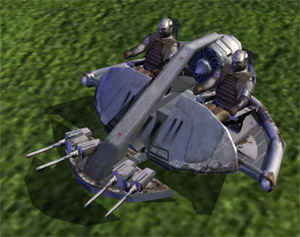 Swamp Speeders are quite fast and are armed with two twin blasters that are moderately effective against infantry. Their health, however, is just as low as that of TIE Maulers and unlike them, they have repulsorlift engines and thus cannot simply run the infantry over. While the full squadron is capable of dealing with infantry squads and lone Tier 1 vehicles, individual Speeders will lose to any enemies in the game.
Their only special ability is "Hunt for Enemies" button, which will automatically send them towards nearest enemy on the map. All of this combines to make it the cheapest vehicle in the game at 375 credits, which is only marginally higher then the price of a Stormtrooper Platoon or a Rebel Soldier Squad. All in all, they aren't really worth buying, as they're unneeded at Tier 1, and both sides will have better hit-and-run vehicles from Tier 2 onwards - the rebels will get the Snowspeeders that are immune to all ground damage, while the Empire will have the TIE Maulers that can defeat any infantry in a matter of seconds.