Star Wars Galactic Battlegrounds
is a real time strategy game in which you can command your forces from a slanted overhead view. You can create and control a number of forces as well as construct bases. The six different factions in the game include the
Wookiees
,
Royal Naboo
, the
Trade Federation
, the
Empire
, the
Rebels
, and the
Gungans
. There is a campaign mode as well as a free play mode where one can play against the computer or against any friend(s) over the Internet. It was officially released in 2002.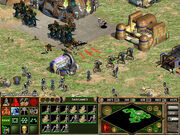 Expansion Pack
Edit
Star Wars Galactic Battlegrounds: Clone Campaigns was released on May 14, 2002. The Expansion Pack for Galactic Battlegrounds came with two new campaigns to play: Confederacy, and Galactic Republic. The Expansion Pack also included up to 5 new planets to play on!
Civilizations
Edit
Clone Campaigns
Edit
Campaigns
Edit
Qui Gon Jinn - Wookiees - Tutorial
Omm 9 - Trade Federation
Boss Gallo and Boss Nass - Gungans
Darth Vader - Galactic Empire
Princess Leia - Rebel Alliance
Chewbaca - Wookiees
Clone Campaigns
Edit
Count Dooku - Confederacy
Mace Windu - Galactic Republic
Star Wars Galactic Battlegrounds only has one really big mod and you can check it out here: http://www.moddb.com/mods/star-wars-galactic-battlegrounds-expanding-fronts
But, there are some little mods in this page:
http://swgb.heavengames.com/downloads/lister.php?category=mods
Star Wars Galactic BattleGround Wiki
While playing, press enter and type in the following code:
forcebuild = Build Faster
SUDDENLY SILENCED = Buildings and Units do more damage
scaryneighbor = Create a Regular Boat
darksidex = Destroy an individual opponent. The last character, "x" , stands for the number of the opponent whom you wish to destroy.
tarkin = Destroys all enemies
The fighters are coming in too fast = Faster Aircraft (Clone Campaigns only)
forceexplore = Full map
forcecarbon = Gives 1000 Carbon
forcefood = Gives 1000 Food
forcenova = Gives 1000 Nova
forceore = Gives 1000 Ore
simonsays = Gives a Killer Ewok
Tantive IV = Gives the Corellian Corvette
That's No Moon = Gives the Death Star
Imperial Entanglements = Gives the Imperial Star Destroyer
The Force Is Strong With This One = Jedi turning is sharper
forcesight = Removes fog of war
Galactic Upheaval = Spawns a Decimator
Intensify the forward fire power = Stronger ground units
Most Poweful Jedi = Stronger Jedi
skywalker = Win Mission
Ad blocker interference detected!
Wikia is a free-to-use site that makes money from advertising. We have a modified experience for viewers using ad blockers

Wikia is not accessible if you've made further modifications. Remove the custom ad blocker rule(s) and the page will load as expected.