StarViper-class attack platform
Production information
Manufacturer
Model

StarViper-class attack platform

Class
Technical specifications
Crew

One pilot

Usage
Affiliation

  [Source]
The StarViper-class attack platform was a starfighter used as a common fighter by the Zann Consortium. They were often equipped with Buzz droids and used as escorts for Skipray Blastboats during bombing runs against enemy capital ships. The StarViper could capture space facilities such as mining asteroids and pirate space stations.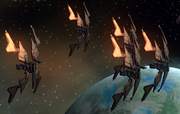 Behind the scenes
Edit
The StarViper was planned to be in the game Star Wars: X-wing Alliance but was not included in the final game. A spot in the ship list file still has a spot named StarViper but with no other specific information.
Appearances
Edit
Ad blocker interference detected!
Wikia is a free-to-use site that makes money from advertising. We have a modified experience for viewers using ad blockers

Wikia is not accessible if you've made further modifications. Remove the custom ad blocker rule(s) and the page will load as expected.