Spider Walker
Talk

1
2,147pages on
this wiki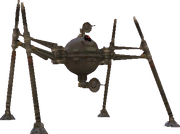 The Spider Walker was a type of heavy vehicle used by the CIS. Like the rest of their army, it was controlled by the droids. The appeared in the Attack of the Clones during the battle at Geonosis.
Star Wars: Battlefront series
Edit
This walker had appeared in the Star Wars: Battlefront, its sequel and Star Wars: Battlefront: Renegade Squadron on the Geonosis map. It is a heavy single-pilot vehicle with a lot of health, but very slow speed. It is equipped with a regular anti-infantry laser cannon as its primary weapon and the heavy beam cannon as the secondary. The latter allows it to cut down infantry with ease, holding a powerful beam for several seconds in a manner akin to the common Laser Turret as well b. It doesn't do much damage to vehicles and shouldn't get into engagements with superior AT-TE. It can, however, kill a lot of enemies by attacking the AT-TE top turret with a laser beam. This wil guaranteedly kill the gunner, who would be replaced by another in a matter of seconds, allowing you to repeat the procedure. This is one of the most efficient ways to win when using the Spider Walker.
Like all other vehicles in the game, it can be repaired by the allied engineers and sliced into by the enemy ones, allowing the clones to control it without having to destroy it first and then wait for it to respawn. Its weak points are the leg joints, and all shots landing there will do much more damage than usual. It should also be noted that the tank has no way of attacking infantry underneath itself, making it a safe zone save for a few droids: something to keep in mind when palying as both sides.
Other appearances
Edit