Snowspeeder
Talk

1
2,147pages on
this wiki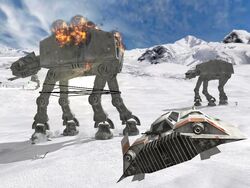 The Snowspeeder is a light flying vehicle used by the Rebel Alliance. They were featured in the Empire Strikes Back and since then have appeared in a many Star Wars-related games.
Star Wars: Battlefront series
Edit
"Watch out, Snowspeeder."
In the orignial game and its sequel, Snowspeeders appear on Hoth map in all modes, where they're spawned from the Rebel-controlled hangar. It is controlled in the same way as all starfighters and thus is very fast, can be boosted or slowed down, perform evasive maneuovres and will only fire their weapons while in the air.
Their primary attack is a rapid-fire laser cannon that has infinite ammo, but can overheat. The secondary attack, as usual can be fired once every 5 seconds and inflicts large damage in a moderate AoE. Both weapons can kill infantry in one shot, and do considerable damage to vehicles: combined fire can easily destroy any turret and deal considerable damage to an AT-ST in one dive.
As the speeder passes AT-AT, it can also fire the cable with the harpoon gun: the cable will hook onto its legs, and additional two passes will completely entagle them, causing it to crash and die after a 10 second-long animation. As the harpoon gun is controlled by a different person, you have to have to people in the cockpit to pull this off. When playing as the Empire, the enemy AI seems to be completely incapable of doing this properly, always stopping the cable after a single pass.
The Snowspeeder is so fast that it is almost impossible for the player to shoot it down from the ground and usually it isn't worth trying, as it only contains one or two people. This changes when you're piloting AT-AT: ironically, the vehicle most endangered by them also has the best chance of destroying them, because of its powerful weapons, low Snowspeeder health and the fact that they will have to fly past your gun turrets. Once you figure out far ahead of them you should fire for the shots to connect, they will stop being a threat to you. Also, if you move close enough to the other AT-AT, the Speeders will crash into you due to their wide turning circle.
Alternatively, simply capturing the hangar will completely stop them from spawning. This is not as difficult as it sounds, since very few Rebels tend to spawn there. If you're fast and lucky enough, you might even be able to get one of the Speeders before the Rebels and turn it against them. If you block its path in some way, it is also possible to quickly slice into it.
Star Wars: Empire at War
Edit
"Ground target locked."
In the original game and its expansion Forces of Corruption, these vehicles are known simply as Speeders. A squadron of 3 can be purchased at the Rebel Light Factory for 1000 credits from Tier 2 onwards.
They can only be destroyed by the Anti-Aircraft Turrets and the AT-AAs and are immune to all other attacks. If you can avoid or neutralise those by some other means, then Speeders can slowly but surely eliminate the defenceless enemy forces. Their damage isn't very high, and is almost non-existent against infantry. While the full squadron can destroy vehicles and buildings at an acceptable speed, such targets are best left to T-2B Repulsor Tanks and MPTL-2a. They're thus best used against the isolated ground turrets and for the general hit-and-run attacks. They're also very good against the normally powerful Empire heroes, since none of them have any effective means of fighting back.
At Tier 3, they become a lot more useful because of their cable attack. This special ability can be used by individual Speeders and will instantly destroy a targeted AT-AT, provided that it was moving at the time (it cannot be used on anything else, even on the similarly constructed AT-STs.) The Empire players can prevent that by keeping AT-AAs nearby and pressing Stop button as soon as any Speeders are sighted.
Other appearances
Edit