Starkiller (Secret Apprentice)
Talk

0
2,147pages on
this wiki
Please Note: This page is not up to date and needs to be edited and expanded.
Galen Marek
Biographical information
Homeworld
Born

Before 18 BBY

Physical description
Species
Gender
Height

1.85 meters

Hair color

Brown

Eye color

Brown

Chronological and political information
Era(s)
Affiliation
Known masters
The Secret Apprentice, codenamed Starkiller, named Galen Marek was a Human apprentice of the Sith Lord, Darth Vader. When Darth Vader found him on Kashyyyk, he then was taken to be trained, by Vader, for many years to hunt down any Jedi that were found to have survived Order 66. With the help of a droid named PROXY and a group of pilots. Vader also hoped to eventually use his Apprentice to help overthrow Palpatine one day. But it was revealed in The Force Unleashed that Vader never planned to use him to overthrow Palpatine when he first found him until later on.
Behind the Scenes
Edit
The robes that Galen wears are very similar to those of Darth Revan's.
Sam Witwer voiced Galen and lent his facial features to the character of the Secret Apprentice.
The Secret Apprentice does have a name: Galen Marek he is also known as Starkiller.
Representatives of LucasArts state that, even though the Secret Apprentice is the apprentice of Darth Vader, he is not a Sith. The representatives hinted that there are some kind of shackles around his wrist that Vader apparently uses to control him.
Starkiller appears as a guest character in the non-Star Wars game Soulcalibur IV.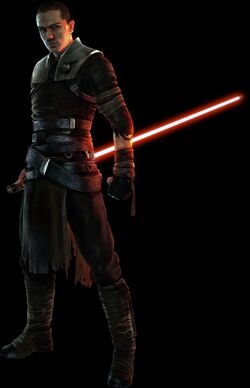 Appearances
Edit