Scout trooper
Talk

1
2,147pages on
this wiki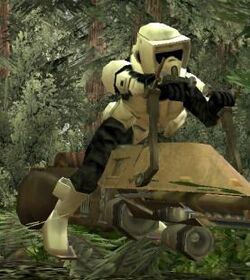 Scout troopers are specialized stormtroopers that are trained in reconnaisance. In the Star Wars games, they either man the speeder bikes or use the Sniper Rifle.
Star Wars: Battlefront series
Edit
In the original Star Wars: Battlefront, its sequel and the Renegade Squadron, the Scout Troopers are the regular sniper class and have the same equipment as their counterparts. They have the lowest health out of all regular classes, but also the highest movement speed.
This trooper's sniper rifle has 56 shots, two levels of scope and fires an instantly-travelling green beam that is usually enough to any enemy at full-health, with the exception of Rebel Vanguards and Wookie Warriors. It is also great for dealing with open turrets, but does especially low damage to vehicles of any kind. After scoring six headshots with it, it will be replaced by an award Beam Rifle that does more damage and can go through several enemies, but is unable to execute headshots.
Their secondary weapon is a common blaster pistol that has infinite ammo but overheats quite quickly. If you manage to kill 6 enemies with it for the award (or get the award permanently), it will be replaced with a far more powerful award pistol with 96 ammo. They also have two common Thermal Detonators and can set up one deployable turret, which will hover in mid-air and shoot at enemies until destroyed. Its damage is equivalent to pistols and it possesses respectable health.
When controlled by the AI, they will usually stay at the more secluded positions away from the frontine, and often don't even get the chance to shoot at all. Even at the larger, more open maps, they tend to wait for inordinate amount of time before firing and will often miss anyway. Should you get up close, they will attack with pistols while retreating and then instantly switch to rifles and shoot once they're at least 5m away. They only set up their turrets on a handful of maps, but will use their detonators against vehicles like everyone else.
Star Wars: Empire at War series
Edit
In the original Empire at War and its expansion Forces of Corruption, the Scout Troopers ride speeder bikes and pairs of them can be purchased for 650 credits at the Barracks from Tier 1 onwards.
They're one of the fastest units in the game, easily rivalling the Snowspeeders and capable of going past the Turbolaser Towers without taking any damage. They behave like vehicles for all intents and purposes, being particularly vulnerable to Anti-Vehicle Turrets and Plex Missile Soldiers. However, they can still get run over just like infantry. When destroyed, the pilot will survive and behave like a regular Stormtrooper.
Their health and damage are both very low for a vehicle, however, and they will get defeated in open combat by any Rebel troop. Instead, they need to rely on their special ability: each bike drops Thermal Detonators on the ground, which explode after about 5-7 seconds, destroying infantry, light vehicles and turrets in the area. Because it is difficult of them to keep enemies pinned in the area by themselves, they work best in conjuction with other troops to distract the enemy while they deposit the explosives.
Star Wars: The Force Unleashed
Edit
In this game, the Scout Troopers also function as snipers and will attack you from afar, doing more damage then regular troopers, but being similarly weak to your attacks.
Other appearances
Edit