Plo Kooon
Biographical information
Homeworld
Died

19 BBY (probable)

Physical description
Species
Gender
Height

1.88

Hair color

none

Eye color

Black

Chronological and political information
Era(s)
Affiliation
Plo Koon was a Jedi Master. He was on the Jedi Council until the time of his probable death on Cato Nemodia during the execution of Order 66. There is some speculation that he may have survived the attack. He wields a blue and a yellow lightsaber and often uses near dark side of the Force powers such as Electrical Judgement. He also cared about every life form he met. He wore a mask to to allow him to breathe the gases that did not exist on his home planet that other planets did have.
Star Wars: Jedi Power BattlesEdit
In Star Wars: Jedi Power Battles Plo Koon is a playable character, in all versions apart from the Game Boy Advance version and he fights with a yellow lightsaber.
He uses force powers Electrical Judgement and a move where he makes himself glow yellow and he temporarily becomes invincible, he can damage enemies by touching them in this mode. His special attack is where he spins around really fast with his lightsaber pointing away from him.
LEGO Star Wars: The Complete SagaEdit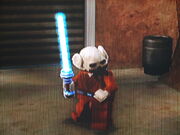 In LEGO Star Wars: The Complete Saga Plo Koon is a normal LEGO Jedi and has no special differences. He also has a blue lightsaber.
Appearances
Edit
Ad blocker interference detected!
Wikia is a free-to-use site that makes money from advertising. We have a modified experience for viewers using ad blockers

Wikia is not accessible if you've made further modifications. Remove the custom ad blocker rule(s) and the page will load as expected.