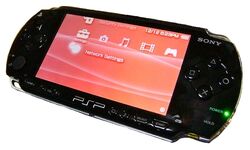 PlayStation Portable or PSP is a handheld console made by Sony. Movies, games, music, photos and the net are all accessible on the PSP. The PSP uses a memory stick to store info and UMDs (Universal Media Discs) for big files that take up a lot of space. A UMD acts like a CD-Rom.
The Star Wars Edition Vanilla White PSP is the Star Wars Battlefront version of the PSP Slim. It is entirely white except for Darth Vader who is etched onto the back cover.
Ad blocker interference detected!
Wikia is a free-to-use site that makes money from advertising. We have a modified experience for viewers using ad blockers

Wikia is not accessible if you've made further modifications. Remove the custom ad blocker rule(s) and the page will load as expected.