Pirate Skiff
Talk

0
2,147pages on
this wiki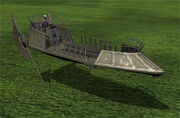 "Spearheading assault!"
Pirate Skiff is a light mercenary vehicle appearing in the Star Wars: Empire at War and its Forces of Corruption expansion. A brigade of 3 can be purchased by either side for 575 credits at the Cantina, assuming that they have captured the Cantina first.
Pirate Skiffs possess relatively high health, average speed and low damage. Their main weapon fires in 3-second bursts, doing damage similar to a full Stormtrooper Platoon. While not much of a threat individually, full brigades can outlast several infantry squads in combat, as well as Swamp Speeders, AT-STs, TIE Maulers, Anti-Infantry Turrets and lone T2-Bs. They obviously won't survive engagements with higher-tier tanks or Anti-Vehicle Turrets.
They don't have any activated abilities, lacking even the useless "Hunt for Enemies" of the other mercenary units. However, it is worth noting that they're piloted by the basic soldier from your side (either a Stormtrooper or Rebel Soldier, respectively), who will survive the vehicle's destruction unharmed. While not significant at first glance, this characteristic gives them a certain edge over the Plex Missile Soldiers, as that soldier will be able to wipe out their squad. If one or more of them were destroyed by the Turbolaser Tower, these survivors could also be used to weaken it until the arrival of proper solution.