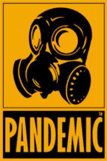 Pandemic Studios is a video game developing company based in Los Angeles, California and Brisbane, Australia. It was founded in 1998 by Josh Resnick and Andrew Goldman. Pandemic was responsible for developing several Star Wars video games, including Star Wars: The Clone Wars, Star Wars: Battlefront, and Star Wars: Battlefront II.
On November 3, 2005, Pandemic Studios announced a partnership with BioWare, the developers of Star Wars: Knights of the Old Republic. Though they now have common ownership and pool their expertise to develop games, both companies have retained their individual staffs and brands.
As of 2006, Pandemic employs over 250 programmers, artists, and designers.
The Star Wars team, who developed the Star Wars: Battlefront series, and is currently working on The Lord of the Rings: Conquest.
Pandemic also has three projects planned simply entitled Projects B, Q, and Z; some of which may be Star Wars Games. it shut down in 2009 by EA. most people were fired while some people stayed to work at EA.
Star Wars bibliographyEdit
External links
Edit
Ad blocker interference detected!
Wikia is a free-to-use site that makes money from advertising. We have a modified experience for viewers using ad blockers

Wikia is not accessible if you've made further modifications. Remove the custom ad blocker rule(s) and the page will load as expected.