Mission to Anteevy

| | |
| --- | --- |
| Conflict: | Galactic Civil War (Dark Trooper Project) |

| | |
| --- | --- |
| Objective: | Destroy Dark trooper Phase II factory |

Factions
Participants
Casualties

  [Source]
The 'Mission to Anteevy was when Ice Station Beta, a large Phase II Dark Trooper factory, was destroyed. The mission took place during the Galactic Civil War.
Kyle Katarn sneaked into the facility. He used the glaciers pouring into the complex to help him, and planted three explosives in the factory.
When he was escaping, a Phase II Dark Trooper found and started to fire. Both of them exchanged fire, and the dark trooper fell to blaster shots from Katarn's blaster pistol. After facing several Phase I Dark Troopers during his escape, he managed to make it to his ship, the Moldy Crow. The factory then exploded into a huge ball of fire.
Behind the scenes
Edit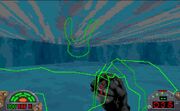 In the game, there is a secret area of the map for this mission which consists of a hidden cave shaped like the head of the rabbit Max. While only the head's outline is shown on the map when the player discovers the cave, if he enters the LACDS cheat code, eyes, nose and mouth will then become visible.
Appearances
Edit
Ad blocker interference detected!
Wikia is a free-to-use site that makes money from advertising. We have a modified experience for viewers using ad blockers

Wikia is not accessible if you've made further modifications. Remove the custom ad blocker rule(s) and the page will load as expected.