Kashyyyk
Astrographical
Region
Sector

Mytaranor Sector

System

Kashyyyk system

Suns

1:Kashyyyk

Moons

3

Coordinates

P-9

Distance from Core

32,000 light years

Rotation period

26 standard hours

Orbital period

381 local days

Physical
Class

Terrestrial

Diameter

12,765 km

Atmosphere

Oxygen mix, Type I (Breathable)

Climate

Temperate

Gravity

Standard

Primary terrain

Mountains
Immense forests and jungles
Seas
Lakes
Rivers

Surface water

60%

Points of interest

Numerous

Societal
Native species
Immigrated species
Official language

Shyriiwook

Population
Major cities

Rwookrrorro (capital)
Royal City
Kachirho
Kepitenochan
Thikkiiana
Okikuti
Chenachochan

Major imports

Processed metal
Medicines

Major exports

Electronic components
Natural resources

Affiliation

  [Source]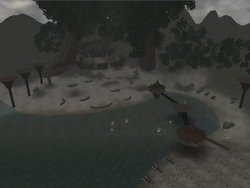 Kashyyyk was the jungle homeworld of the Wookiees. Kashyyyk appears in many Star Wars games, including Star Wars: Battlefront, Star Wars: Battlefront II, and Star Wars: Knights of the Old Republic.
Life on Kashyyyk
Edit
The Wookiees live in the upper reaches of the forests on Kashyyyk, choosing only to descend to the depths of the Shadowlands to hunt. Wookiees live in large villages among the tops of the trees.
Appearances
Edit
Ad blocker interference detected!
Wikia is a free-to-use site that makes money from advertising. We have a modified experience for viewers using ad blockers

Wikia is not accessible if you've made further modifications. Remove the custom ad blocker rule(s) and the page will load as expected.