Interdictor IM-418 Cruiser
Production information
Manufacturer

Sienar Fleet Systems

Model

IM-418 Cruiser

Class

Starship

Technical specifications
Length

600.0 meters

Shielding

2880 SBD

Hull

1056 RU

Armament

4 Laser Cannon Batteries
1 Gravity Well Generator

Complement

Infantry:

Crew

crew: (2,807)
gunners: (24)

Usage
Role(s)

Immobilizer

Era(s)
Affiliation

  [Source]
The Interdictor IM-418 Cruiser, sometimes shortened to Interdictor Cruiser or just Interdictor, was a medium starship used as an immobilizer. It was not very heavily armed. It was used mainly to draw ships out of or keep them from jumping into hyperspace, using their large gravity well projectors.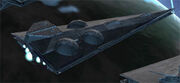 Known ships
Edit
Aggregator
Binder
Black Asp
Claw
Compellor
Constrainer
Detainer
Dominator
Fireclaw
Grappler
Harpax
Immobilizer
Imperator
Rampart
Restrainer
Red Claw
Requital
Sentinel
Stellar Web
Strengths
Edit
While short on strengths, the Interdictor can prove a valuable asset to any battle. It's primary role is not combat, remember that, it can fend off fighter attacks to an extent, but anything else it's pretty much an easy target for. These are best kept behind all the action while they activate their Gravity Well Generators, hyperspace will be disabled until the Interdictor turns off the Gravity Well Generators or is destroyed. It can also jam missile and torpedo guidance, which can be activated along with the gravity well generator at the same time, so this is a good idea so if any bombers or missile frigates come along it can fend them off.
Weaknesses
Edit
Firstly, the Interdictor is not meant for combat, only for jamming missile guidance and stopping enemy hyperspace retreats, it serves no real benefit in combat purposes, why? Because although if the Gravity Well Generator and the Missile Jamming is activated, it is still going to be extremely vulnerable to capital ships and frigates, and will require you to keep capital ships and frigates away from the Interdictor if you wish to keep it alive to stop missile guidance and prevent enemy hyperspace retreats. These things are also fairly lightly armored and armed and are absolutely useless on defense.
Appearances
Edit
Ad blocker interference detected!
Wikia is a free-to-use site that makes money from advertising. We have a modified experience for viewers using ad blockers

Wikia is not accessible if you've made further modifications. Remove the custom ad blocker rule(s) and the page will load as expected.