The Imperial Officer appears in many games, usually armed with a pistol and dressed in a black, tan, or dark green uniform.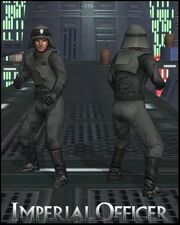 Star Wars: Battlefront IIEdit
In Star Wars: Battlefront II, the Imperial Officer, as that class is often called, carries a Sonic Blaster as his main weapon. He is dressed in a dark green uniform with a matching helmet. He has Rage, a damage increase power-up, a Mortar launcher and Recon Droids which can be used to scout places before joining in the carnage.
Star Wars: Jedi Knight: Jedi AcademyEdit
In Star Wars: Jedi Knight: Jedi Academy, the Imperial officer shows up as one of two figures: either a tan-uniformed officer with a sidearm or a black-uniformed officer with a sidearm. Both die with a singly well-placed slice of a lightsaber or several shots with a pistol or E-11 blaster rifle. The ammo they drop can be used as either DL-44 Heavy blaster pistol ammo or E-11 ammo.
Star Wars: Dark ForcesEdit
In Star Wars: Dark Forces, the Imperial officer appears only in the tan uniform, carrying only a pistol. The ammunition he drops can be used for either your E-11 or your Bryar blaster pistol.
Appearances
Edit
Ad blocker interference detected!
Wikia is a free-to-use site that makes money from advertising. We have a modified experience for viewers using ad blockers

Wikia is not accessible if you've made further modifications. Remove the custom ad blocker rule(s) and the page will load as expected.