Hailfire Tank
Talk

2
2,147pages on
this wiki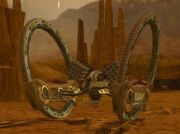 The Hailfire Tank is a CIS vehicle in Star Wars: Battlefront, Star Wars: Battlefront II and Star Wars: Battlefront: Renegade Squadron. It is only used on Geonosis alongside Droid Spider Walkers.
This tank is quite fast, but very difficult to manoeuvre at lower speeds. Due to its large size, it also makes a great target for enemies. It is armed with two anti-infantry repeating blasters and the missile launcher blocks at the top that give it its name. The blaster is pretty effective against infantry but has limited arc of fire, and it is difficult to adjust aim due to the vehicle's size, and it is often easier to defeat infantry by simply running them over. The violet-hued missiles are dangerous up close but scatter wildly at long range. They can do some damage to AT-TE at close range, too, but one needs to try and circle around it, as all of its guns will do great damage to it (even the rear Repeater blaster will eventually oveerpower you if you stay on one spot for too long.)
Like all vehicles in Battlefront series, it can be repaired by allied engineers and sliced into by the enemy ones (procedure that takes several seconds and will remove the crew from the vehicle upon completion, allowing it to be captured by the other side.) Its weak spots are just below the central cockpit and the missile blocks at the top.