Defiler
Talk

1
2,147pages on
this wiki
The Defiler was a primary corruption unit of the Zann Consortium. And were the only Zann Consortium units able to spread corruption.
Primary Uses
Edit
The Defiler is primarily used to corrupt planets for the Zann Consortium. Corruption options include kidnapping, bribery, piracy, intimidation, slavery, corrupt militia, racketeering, and black market operations.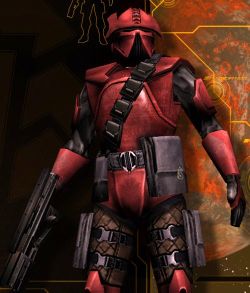 Secondary Uses
Edit
The Defiler is also capable of some combat, and like other Consortium Heroes, Defilers are stealth, meaning that they are undetectable by enemy fleets unless they are grouped with a non-stealth unit.
Defilers in combat function like Noghri and Rebel Infiltrators in that they are highly effective against infantry, indigenous, and some tank units.
Star Wars: Forces of Corruption Instruction Manual
Appearances
Edit