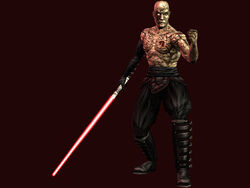 Darth Sion, also know as The Lord of Pain, was a Sith Lord whose shattered body was held together only by "his hatred and the power of the Dark Side".
Darth Sion was taught by Darth Traya. He betrayed his master with the help of Darth Nihilus. Later though, when Darth Traya returned to Malachor V to wait for the Jedi Exile, he returned to his master in shame.
Darth Sion served as a Sith Marauder in the time of Exar Kun's empire. He was in search of a worthy death, but kept surviving each encounter he had with Jedi. When Sion was finally struck down, he did not die. Instead, all of his agonizing pain drove him to rise again and kill his would-be killer. He had learned, in this moment, that he could hold his decomposing body together with the Dark-side of the Force. Although this caused him considerable pain, his rage gave him the strength to continue with this process. It was not until the time of Revan did Sion finally become a true Sith Master. He was one of the few Sith to survive the destruction of the Sith Academy on Korriban.
Behind the Scenes
Edit
A scene cut out from Star Wars: Knights of the Old Republic II: The Sith Lords, was suppose to show Darth Sion engaging Darth Nihilus on the Ravager.
Appearances
Edit
Ad blocker interference detected!
Wikia is a free-to-use site that makes money from advertising. We have a modified experience for viewers using ad blockers

Wikia is not accessible if you've made further modifications. Remove the custom ad blocker rule(s) and the page will load as expected.