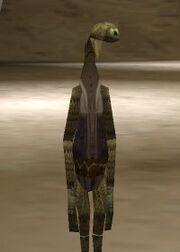 Cy Yunga was a Vodronite podracer who raced during the time of the blockade of Naboo. Like all Vodranites, he had a single eyestalk which supported one eye.
Behind the Scenes
Edit
It is said that Cy Yunga was named after one the employees at LucasArts who helped create the game.
Cy Yunga is only available with Cheat codes on the N64 version of Episode 1 Racer.
While on most versions of Episode I Racer, Cy Yunga is not available, he is available on the GameBoy Advanced version of the game.
Appearances
Edit
Ad blocker interference detected!
Wikia is a free-to-use site that makes money from advertising. We have a modified experience for viewers using ad blockers

Wikia is not accessible if you've made further modifications. Remove the custom ad blocker rule(s) and the page will load as expected.