Bespin
Astrographical
Region
Sector

Anoat Sector

System
Suns

1: Bespin

Moons

2: H'gaard, Drudonna

Coordinates

K-18

Distance from Core

49,100 Light Years

Rotation period

12 standard hours

Orbital period

5,110 standard days

Physical
Class
Diameter

118,000 km

Atmosphere

Breathable (In Life Zone)

Climate

Temperate (In Life Zone)

Gravity

Standard

Primary terrain

Gas Giant
Swamp (Surface Only)

Surface water

0%

Points of interest
Societal
Native species

Tibannucks
Velkers
Beldon
Rawwks

Immigrated species
Official language

Galactic Basic

Population

6 million

68% Humans
8% Ugnaughts
6% Lutrillians
18% Others

Major cities

Cloud City (capital)
Ugnorgrad
Tibannopolis

Major imports
Major exports

Tibanna gas
Tourism
Cloud cars

Affiliation

  [Source]
Bespin was a large gas giant and home of the "City above the Clouds", Cloud City, where Lando Calrissian oversaw the mining facility. It was also the location of a battle during the Galactic Civil War, where the Empire took control of the mine and city. It is also the place where Luke faced Darth Vader for the first time and learned that Vader was actually his father, getting his hand cut off in the process.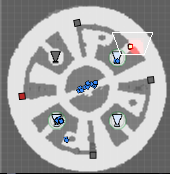 Bespin was a gas giant approximately 118,000 kilometers in diameter. While the giant was mostly poisonous, it possesed one place were the atmosphere is breathable, called the Bespin Life Zone. Bespin rotated very fast, with a 12 hour rotation, however, it took nearly 14 standard years for it to orbit its star. This was the planet home to many famed people including Lando Calrissian and Lobot.
Behind the Scenes
Edit
In the original Empire at War, Bespin didn't hold a land battle map, it could only be conquered by having space units above the planet, however, when the expansion pack Forces of Corruption was released, Bespin was then given a land battle map.
In Battlefront II, both Bespin maps were discontinued, it is unknown why this was done. However the Bespin maps could be played on Xbox Live on Battlefront II.
Appearances
Edit
Ad blocker interference detected!
Wikia is a free-to-use site that makes money from advertising. We have a modified experience for viewers using ad blockers

Wikia is not accessible if you've made further modifications. Remove the custom ad blocker rule(s) and the page will load as expected.